From volume and length to colour and trends, choose from our range of five hair collections to create your client's look.
Whether you're looking to use Rapture Hair Extensions to create a thicker, more voluminous look, or to add colour without compromising the integrity of the hair through dye, there's something for everyone.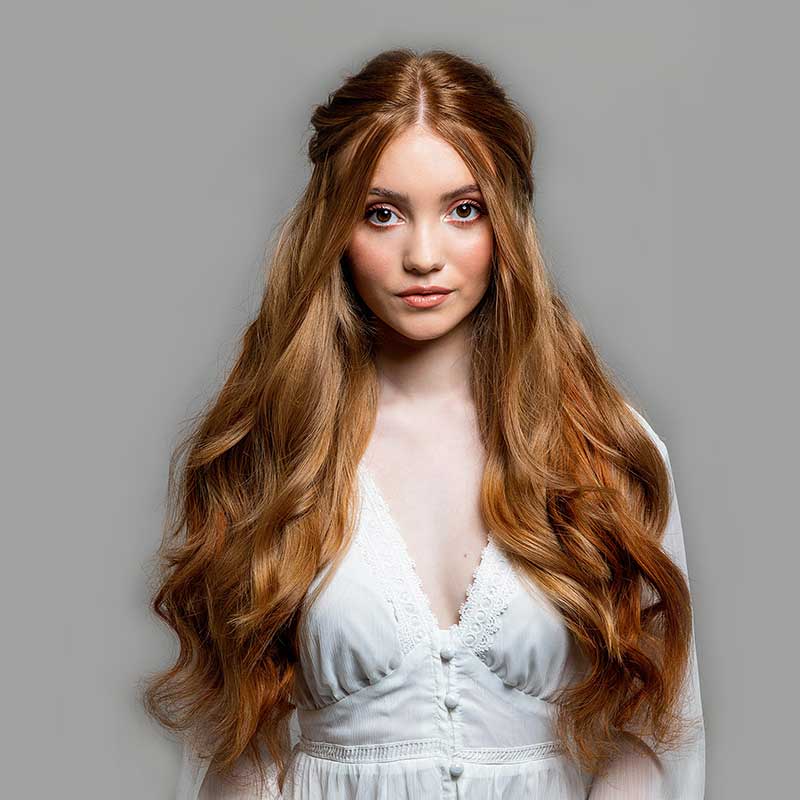 Our Rapture Original solid colour hair collection, from the deepest browns to the brightest blondes and everything in between. Mix colours to create dimension and to match your client's hair tone. With no pulling or tugging our originals are comfortable and lightweight ensuring no damage is done to the client's natural hair. Hand crafted each extension is carefully assembled using the finest remy hair.
Create gorgeous, on trend, balayage styles using our melts range.
Available in both 25cm and 40cm  
Rapture Evolution Hair Extensions deliver the ultimate in quality and versatility; they are handcrafted, comfortable, ultra-lightweight and virtually invisible.
Rapture Evolution Hair Extensions are delicately hand stitched, which gives the effect of the hair growing from the root, they are ideal to use with clients who have very fine or thinning hair as they look so natural and are designed to be used around partings and hairlines.
Combine Rapture Evolution and Rapture extensions to provide the ultimate head of the most natural looking hair extensions for your clients with fine and thinning hair.
Rapture Evolution is available in 21 colours and two lengths of 25cm and 40cm, the extensions are 3cm wide and are available in packs of 12.
We offer 8 of the most popular vibrant shades in our Heat Proof Fibre Range, you can add a flash of shocking colour or panels of vibrant shades that won't fade and can easily be applied and removed.
The colour available are; Green, Aqua, Blue, Pink, Red, Violet, Purple and Burgundy.
Available in 40cm length with 6 strips per pack.  The fibre can be heated up to 180 degrees celsius and will take a soft curl when heat set.  The colours won't bleed or fade and will allow your clients to have fun with colour without the time or commitment, great for parties, fundraising events and school and college proms.
Rapture Fusion uses the ultimate bonded hair extension technology available on the market today. Rapture Fusion Eurotex hair is Root point correct, cuticle intact and of the very highest quality, with correct care the hair will easily last for between 6 and 9 months.
We also supply European hair and Asian hair, giving a choice and price range to suit every client and every budget.
Our extension bonding uses the very latest formulation, it works in harmony with the client's own hair causing no damage and leaving no residue, simple to apply and as quick and easy to remove.
We offer an expert colour matching service for all of our Fusion clients, and can match hair both in Eurotex and European hair, with over 80 years of experience you can be assured of our quality and attention to detail, that no other hair supplier can offer.
Our prices are the most competitive on the market, making not only our kits and training affordable, but our hair and bonding too, on average between 25% – 30% cheaper than other suppliers.
We are so confident in our Eurotex hair that if you are not satisfied when you receive it you can return it to us in its original ties and packaging for a no quibble money back guarantee.
We have a range of Aftercare products that will keep the Rapture Fusion extensions looking and feeling salon fabulous, available to order in single units which means that you don't have to hold large stocks.
Rapture Hair Extensions fully support the responsible and ethical sourcing of hair used in hair extensions and wig making. All our hair is sourced from traceable sources where hair donation is made willingly and the proceeds from the sale are put directly back into the local communities. We have worked with the same network of suppliers for many years and are confident in the sourcing; processing and supply chains that every effort is made to ensure responsibility and ethicality.
For further information about how you can become a Rapture Specialist call 01295 757 410